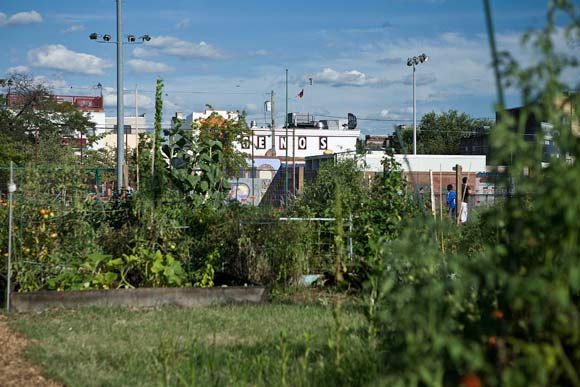 Last week we talked at great lengths about the Passyunk Square real estate market, but i wanted to discuss the more social aspects of Passyunk Square. The neighborhood is such a friendly and inviting place that I thought it would be helpful to talk more about what makes Passyunk Square so special. Here's a helpful rundown of Passyunk Square.
Anyone knew to the neighborhood should start by researching the Passyunk Square Civic Association. You can learn all about their efforts to keep the neighborhood clean, safe and beautiful, through mural arts programs, community gardens, tree planting and a neighborhood watch. It gives you the impression that the residents of Passyunk Square take great pride in their neighborhood and really do love their home. One recent event taking place on November 11 is the Passyunk Square home tours. Residents of Passyunk Square will have a chance to show off their homes and money earned from the tour will go back into helping the neighborhood.
Passyunk Square is also home to many different parks, including Gold Star Park, Dickinson Park and of course, Passyunk Square park. The neighborhood is very dog friendly and Passyunk Square park has an adjacent dog park.
The Passyunk Square restaurant scene has been booming lately! In a neighborhood that was primarily known for cheesesteaks(Passyunk Square is home to Pat's and Geno's after all) the neighborhood has seen an influx of cafes, BYOBs, and a variety of great restaurants. Everything from family owned Italian restaurants to trendy new eateries can be found in Passyunk Square. Here's a map of some of the best restaurants in Passyunk Square. Click Here
Although Passyunk Square is a hot real estate market, there's much more than just homes for sale in Passyunk Square. The neighborhood is alive and the residents of Passyunk Square really love the place  they live and are invested in the neighborhood. I think part of what makes Passyunk Square so special is that you see families and young people looking to move into the area for a significant amount of time. It's more than just investors flipping homes. Passyunk Square is one of the strongest real estate markets in Philadelphia because of these intangibles that make the neighborhood great. If you're looking to buy some Passyunk Square real estate, you'll be able to find a great home, as well as some fantastic neighborhoods who really care about their area.
Click the Link To Browse Passyunk Square Real Estate